Features
Building back better – by backing better building
Pay rises are back in construction, but must take their place in a crowded agenda, where casual employment of one kind or another is now widely seen as a barrier to "building back better"
This time last year, three months into lockdown, employers in the engineering construction industry wrote to their union opposite numbers about a postponed wage claim. With up to 65% of the workforce on furlough and 25% at risk of being made redundant, they asked general unions the GMB and Unite to accept a pay freeze and a temporary relaxation of shift and overtime rules in NAECI, the National Agreement for the Engineering Construction Industry.
Looking back, as Unite assistant general secretary Gail Cartmail recently pointed out, we can now say that the vast majority of construction work continued throughout successive lockdowns. Many – but not all – of the industry's big national agreements did put pay and conditions on hold, but that is now coming to an end.
The recently-announced 2.5% pay rise (from 28 June) for up to 500,000 workers covered by the Construction Industry Joint Council agreement is the most powerful evidence of that. Hopes of a 2020 pay rise ended last October, when the employers' side (then made up of nine different employer associations) confirmed that pay was being frozen.
One thing that has changed is that the labour market in construction is now moving again. The Construction Industry Training Board (CITB) says the industry seems to have bounced back more quickly than expected from the Covid crisis. The Construction Skills Network recently forecast that it would reach 2019 levels of output in 2022 and will need to recruit an additional 217,000 workers by 2025 just to meet demand.
Rising vacancy levels are another sign. One construction project alone, the Hinkley Point C nuclear power station, is expected to hire 1,700 new workers (25,000 people will work on the project in all). Other projects like HS2 are pulling in labour, with union-employer relations developing in parallel.
On the heating and ventilating side of the business, the BESA employers' association warned back in April that the speed of the economic recovery was revealing "cracks" in the labour market. At the time, the industry had already lost a quarter of its EU-born workforce, down to 127,000 from 176,000 in the third quarter of last year.
Filling the cracks
The industry, which has an ageing workforce, clearly needs to recruit and train on a large scale, not just to get back to where it was before the pandemic, but to deliver on infrastructure plans and decarbonisation commitments intended to get the UK out of recession.
But that means tackling an employment model that has come to rely heavily on "bogus" self-employment, long supply chains and a focus on cost at the expense of productivity. Now that it is back on the agenda, pay must take its place alongside these longer-range concerns.
Almost a third of the industry's 2.23 million workers were officially "self-employed" in the latest figures. A Unite freedom of Information request in 2019 revealed that 1.03 million construction workers were paid via the Construction Industry Scheme (CIS); the vast majority of them self-employed but paid on a weekly basis. Under the scheme, contractors deduct money from a subcontractor's payments and pass it to HM Revenue and Customs (HMRC) as advance payments towards the subcontractor's tax and National Insurance.
A further 300,000 were paid via "umbrella companies". They look after tax, insurance and other matters while their workers work for different construction companies, paid only when on assignment. These are some of the signs that a massive "non-direct" workforce has become entrenched in the industry – so, while pay is now beginning to be dealt with, the industry is also reflecting on how it will employ and train its workforce in future.
An 'Uber moment'?
February's Supreme Court ruling that Uber drivers must be treated as workers rather than self-employed caused a stir, with talk of a construction "Uber moment". So too did April's changes in the IR35 tax rules, transferring responsibility to medium and large private sector employers to decide if workers on their sites "would have been" employees had they provided their services directly (thereby incurring higher taxes and National Insurance).
Commenting on these developments, Unite told Workplace Report: "Most construction workers are classified as workers when a case is taken to an employment tribunal; our problem is that most cases revolve around holiday pay and employers now tend to produce a contract with rolled-up holiday pay, therefore most claims will have no monetary values". The union's construction charter campaign, endorsed by a range of local authorities in 2018 and 2019, remains relevant to the current debate.
Charlotte Childs, GMB national officer, commented: "The use of bogus self-employment is endemic in the construction sector. The Uber ruling, coupled with the IR35 ruling, could mean a huge shift towards our members' working reality reflecting the tax implications and benefits that their roles should attract. There is much to do in this area and no doubt there will be unscrupulous contract owners that try and avoid their responsibilities, but GMB will be holding their feet to the flames".
State of pay
The CIJC pay settlement reported above is the biggest new development on the pay front (see below) but it's not the only one. The Federation of Master Builders – representing mainly small employers in the Building and Allied Trades Joint Industrial Council (BATJIC) – recently agreed a 1.5% increase, having also bucked the pay freeze trend in June last year with a 3% pay rise.
Elsewhere, negotiations are in hand for an October 2021 deal in heating, ventilating, air conditioning piping and domestic engineering according to BESA (there was no increase last October). In electrical contracting, the Joint Industry Board (JIB) January 2020 wage increase was expected to remain in place until the parties reach agreement.
In the Thermal Insulation Contracting Industry (TICI) a pre-agreed increase of 2-2.5% was due in January this year, but the employers' side told the unions in December that it would be delayed until September this year. And in engineering construction (where the unions' "NAECI 2022 and beyond" claim calls for 10% or RPI – whichever is greater – over the period 2021 to 2023) further meetings are apparently planned.
Under the updated CIJC Working Rule Agreement (WRA) wage rates from 28 June 2021 start at £9.77 for a general operative, range from £10.53 to £12.36 for skill rates 4 up through to 1, with £12.99 as the craft rate. The basic working week is 39 hours, so basic weekly earnings range from £381.03 to £506.61. Apprentice hourly rates start at £5.85, rising to £6.97 in year two; while in year three and up to completion (depending on whether the apprentice has or doesn't have NVQ2 or NVQ3 qualifications) they range from £8.13 up to the £12.99 craft rate). Statutory minimum wage-for-age rates would apply.
CIJC sick pay was set at £138.38 in addition to SSP (currently worth £96.35 a week); subsistence allowance is set at £41.66 per night; and bereavement leave is re-defined as up to five days in the event of the death of a spouse/partner or child and where the operative has the responsibility for dealing with the funeral arrangements (and three days in the event of the death of a parent or parent of spouse/partner in these circumstances).
Pay level
With labour shortages emerging, the industry's ability to attract labour while retaining employer support for its national agreements will be put to the test. Figures from April 2019 show median hourly earnings (excluding overtime) at £10.37 for labourers, £12.16 for construction operatives and £13.31 for skilled construction and building trades (Annual Survey of Hours and Earnings, ASHE).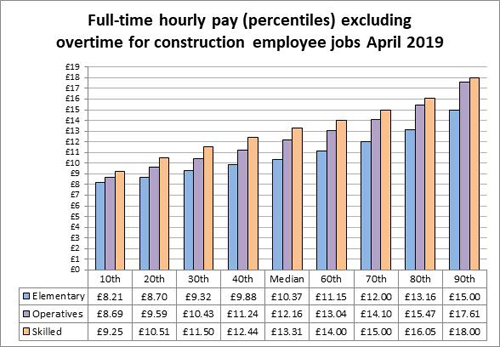 The top 10% of earnings (the 90th percentile) are worth between 35% to 45% more than these medians, while the bottom 10% (10th percentile) are worth around 70% to 80% (see chart). Results from April 2020 were affected by furlough, so these 2019 rates are a more useful guide right now.
How far nationally-negotiated rates can match what is actually paid locally at site level is always contentious, as a key role for most national agreements is to set minimum terms and conditions which can be exceeded. The CIJC agreement is unusual in having multiple associations making up the employers' side, but the National Association of Shopfitters (NAS) left the council earlier this year on the grounds that:
• the upcoming negotiations were going to be undertaken without an understanding of actual rates of pay (it is currently conducting its own members' survey on that point);
• many of its members were already paying over WRA rates to attract and retain talent;
• with minimum rates increasing by 2.5%, if employers are already paying in excess of that baseline, the real impact on pay in the sector would be minimal.
These NAS comments echo concerns voiced by Unite national officer Jerry Swain last October, when last year's CIJC pay freeze was announced: the credibility of the agreement was at an all-time low, with many clients simply ignoring it as some of the rates are simply too low, far below those in other construction agreements.
He said: "If the agreement is to become relevant and fit for purpose then there needs to be radical reform on the employers' side so that those who negotiate the agreement better understand the reality of working on a construction site and where the agreement needs to be in order to gain some credibility on those sites".
Facing the future
The construction industry's tendency to informal and casual working practices is not unique to the UK, as a recent book on the subject shows (see Labour Research July 2021). It comes with a reputation for a "sometimes-abusive use of migrant labour; for gendered male employment; and for a neglect of the essentials of health and safety" (Work and Labour Relations in the Construction Industry: An International Perspective).
But a report by Professor Howard Gospel, commissioned by the Joint Industry Board, shows that the steady growth in non-direct employment in the UK's construction industry has been the result of choices, not by accident (Direct Employment, a study of economic, business and social outcomes based on the electrical contracting sector).
Gospel argues that it cannot be explained away as some sort of "natural" phenomenon or the "inevitable" consequence of increased market competition. It is the result of specific actions and decisions taken over many years by industry clients, contractors, and successive governments – not least in the key policy areas of procurement, tax, social security, and employment law.
That all chimes with a University of Strathclyde report for the Scottish Trades Union Congress (STUC) which highlights unrealistic pricing to win contracts, quality issues stemming from poor skills/trades accreditation and regulation, and employment agencies who do not ensure appropriate checks on labour skills and accreditation (Facing the future constructively? The experience of work in the construction industry in Scotland).
Employment in small firms and self-employment contribute to a narrowing and fragmentation of skilled work and go together with limited union influence and – in a minority of cases – no union presence on-site. Contractors not insisting on adherence to industry agreements, and employers uninterested in constructive dialogue with unions, add to these problems.
The Gospel report, in particular, is packed with evidence and has the active support of employers and unions alike. It says subcontracting and self-employment remain essential features of electrical contracting and other parts of construction but the balance has been allowed to tip too far away from direct employment. If the industry's and the government's priorities for this and future decades are to be achieved – for example, in safety, quality, skills, efficiency, and innovation – then a healthier, more sustainable balance now needs to be restored.